Best solution to clean your pool
Tired of spending time and effort to clean your pool under the hot sun?
Let's Maytronics Dolphin Robots do these hard works! No matter the size, shape or type of pool, these robots will automatically scan the pool area, scrub and vacuum the pool surfaces thoroughly to achieve the best possible cleaning results for your pool.
Dolphin robot can intelligently work on its own without human supervision. All you need to do is just put the robot into the water, power on, then sit back and relax while the robot do its works.

Advanced filtration, scanning, navigation and brushing technologies, built-in with every Dolphin

Designed for effortless handling and emptying, simple operation &  fast and easy maintenance

Top performing robots that offer long-lasting reliability, 2 – 3 years limited warranty

Energy efficient solution, that provides more savings for both your utility bills and pool maintenance costs.
Contact us to discover more models available.
Which Robot is Right for You?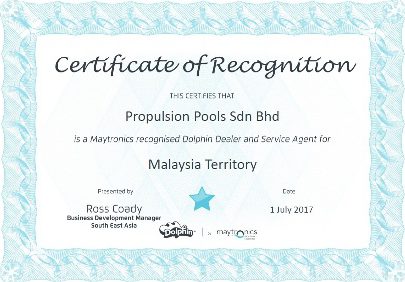 We are Maytronics Authorized Dealer and Service Center in Malaysia.
Contact us for professional advices or visit our showrooms for a demo. We will help you to identify the right robotic pool cleaner for your swimming pool.