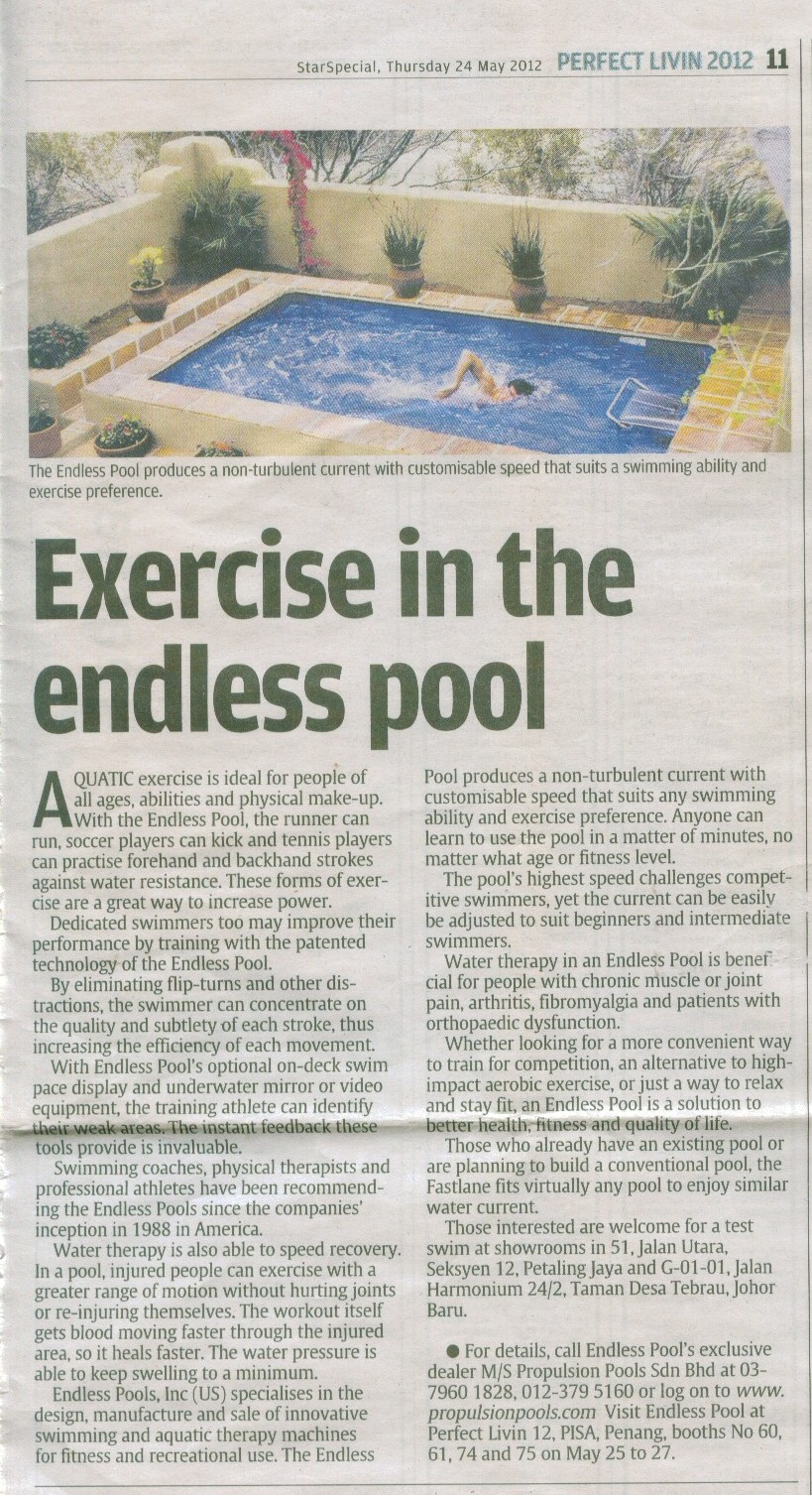 Exercise in the Endless Pool (StarSpecial, Thursday 24 May 2012)
Aquatic exercise is ideal for people of all ages, abilities and physical make-up. With the Endless Pool, the runner can run, soccer players can kick and tennis players can practice forehand and backhand strokes against water resistance. These forms of exercise are a great way to increase power.
Dedicated swimmers too may improve their performance by training with the patented technology of the Endless Pool.
By eliminating flip-turns and other distractions, the swimmer can concentrate on the quality and subtlety of each stroke, thus increasing the efficiency of each movement.
With Endless Pool's optional on-deck swim pace display and underwater mirror or video equipment, the training athlete can identify their weak areas. The instant feedback these tools provide is invaluable.
Swimming coaches, physical therapists and professional athletes have been recommending the Endless Pools since the companies' inception in 1988 in America.
Water therapy is also able to speed recovery. In a pool, injured people can exercise with a greater range of motion without hurting joints or re-injuring themselves. The workout itself gets blood moving faster through the injured area, so it heals faster. The water pressure is able to keep swelling to a minimum.
Endless Pools, Inc (US) specializes in the design, manufacture and sale of innovative swimming and aquatic therapy machines for fitness and recreational use. The Endless Pool produces a non-turbulent current with customizable speed that suits any swimming ability and exercise preference. Anyone can learn to use the pool in a matter of minutes, no matter what age or fitness level.
The pool's highest speed challenges competitive swimmers, yet the current can be easily be adjusted to suit beginners and intermediate swimmers.
Water therapy in an Endless Pool is beneficial for people with chronic muscle or joint pain, arthritis, fibromyalgia and patients with orthopedic dysfunction.
Whether looking for a more convenient way to train for competition, an alternative to high-impact aerobic exercise, or just a way to relax and stay fit, an Endless Pool is a solution to better health, fitness and quality of life.
Those who already have an existing pool or are planning to build a conventional pool, the Fastlane fits virtually any pool to enjoy similar water current.
Those interested are welcome for a test swim at showrooms in 51, Jalan Utara, Seksyen 12, Petaling Jaya and G-01-01, Jalan Harmonium 24/2, Taman Desa Tebrau, Johor Bahru.
For details, call Endless Pool's exclusive dealer M/S Propulsion Pools Sdn Bhd at 03-7960 1828, 012-379 5160 or log on to www.propulsionpools.com. Visit Endless Pool at Perfect Livin 12, PISA, Penang, booths No 60, 61, 74 and 75 on May 25 to 27.