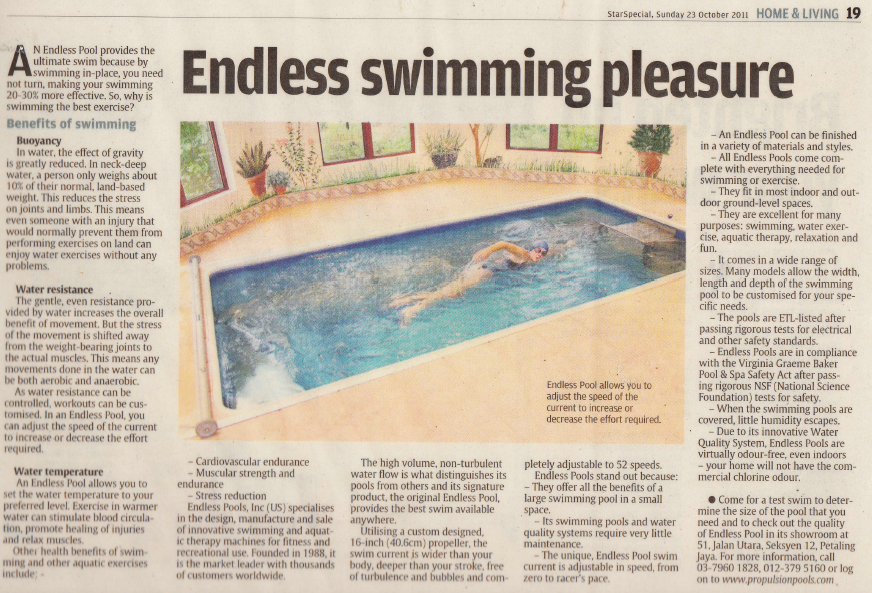 Endless Swimming pleasure (StarSpecial 23 Oct 2011)
An Endless Pool provides the ultimate swim because by swimming in-place, you need not turn, making your swimming 20-30% more effective. So why is swimming the best exercise?
Benefits of swimming
Buoyancy
In water, the effect of gravity is greatly reduced. In neck-deep water, a person only weighs about 10% of their normal, land-based weight. This reduces the stress on joints and limbs. This means even someone with an injury that would normally prevent them from performing exercises on land can enjoy water exercises without any problems.
Water resistance
The gentle, even resistance provided by water increases the overall benefit of movement. But the stress of the movement is shifted away from the weight-bearing joints to actual muscles. This means any movements done in water can be both aerobic and anaerobic.
As water resistance can be controlled, workouts can be customized. In an Endless Pool, you can adjust the speed of the current to increase or decrease the effort required.
Water temperature
An Endless Pool allows you to set the water temperature to your preferred level. Exercise in warmer water can stimulate blood circulation, promote healing of injuries and relax muscles.
Other health benefits of swimming and other aquatic exercises include: 
Cardiovascular endurance

Muscular strength and endurance

Stress reduction
Endless Pools, Inc (US) specializes in the design, manufacture and sale of innovative swimming and aquatic therapy machines for fitness and recreational use. Founded in 1988, it is the market leader with thousands of customers worldwide.
The high volume, non-turbulent water flow is what distinguishes its pools from others and its signature product, the original Endless Pool, provides the best swim available anywhere.
Utilizing a custom designed, 16-inch (40.6cm) propeller, the swim current is wider than your body, deeper than your stroke, free of turbulence and bubbles and completely adjustable to 52 speeds.
Endless pools stand out because:
They offer all the benefits of a large swimming pool in a small space.

Its swimming pools and water quality systems require very little maintenance.

The unique, Endless Pool swim current is adjustable in speed, form zero to racer's pace.

An Endless Pool can be finished in a variety of materials and styles.

All Endless Pools come complete with everything needed for swimming or exercise.

They fit in most indoor and outdoor ground-level spaces.

They are excellent for many purposes: swimming, water exercise, aquatic therapy, relaxation and fun.

It comes in a wide range of sizes. Many models allow the width, length and depth of the swimming pool to be customized for your specific needs.

The pools are ETL-listed after passing rigorous tests for electrical and other safety standards.

Endless Pools are in compliance with the Virginia Graeme Baker Pool & Spa Safety Act after passing rigorous NSF (National Science Foundation) tests for safety.

When the swimming pools are covered, little humidity escapes.

Due to its innovative Water Quality System, Endless Pools are virtually odour-free, even indoors

Your home will not have the commercial chlorine odour.

Come for a test swim to determine the size of the pool that you need and


to check out the quality of Endless Pool in its showroom at 51, Jalan Utara, Seksyen 12, Petaling Jaya. For more information, call 03-7960 1828, 012-379 5160 or log on to www.propulsionpools.com.