Faster Heating – Lower Cost – Silent Operation 
Product Features:
TurboSilence Inverter Technology makes it possible to generate extra 20% power for fast heating, but with silence running.
Averagely more than 15 Times Quieter
3 Time Energy Saving, COP up to 16
Turbo / Smart / Silence Mode Selection
Built-in WiFi for mobile app controls
Operating Air Temperature -15 °C to 43 °C
Description
InverX runs at 120% capacity to heat up the pool rapidly to achieve desired pool temperature.
InverX intelligently runs at 20~100% capacity according to the water temperature. But over 95% of the swimming days, It runs at AVERAGE 30%-50% capacity when selecting the appropriate model to maintain the desired pool temperature, no worries for the electricity bill.
InverX intelligently runs at 20~60% capacity, for maintain the temperature of pool ensuring quiet operation & friendly neighborhood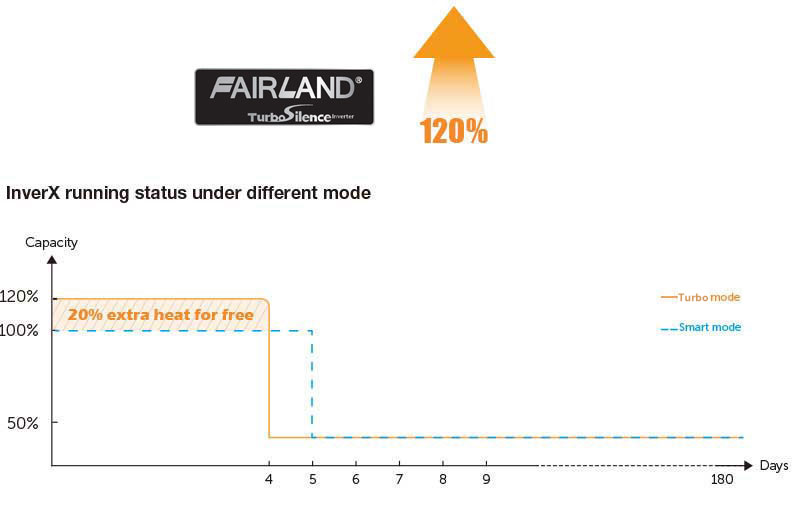 Averagely more than 15 Times Quieter
All INVERX models are with twin-rotary compressor to minimize vibration. Both the fan and compressor automatically adjust their speed to match the pool heat demand, therefore once the pool is up to temperature, the unit can operate with reduced power consumption and noise. Running by AVERAGE 50% capacity to maintain pool temperature for whole swimming season, which means 15 times quieter swimming environment & friendly neighborhood.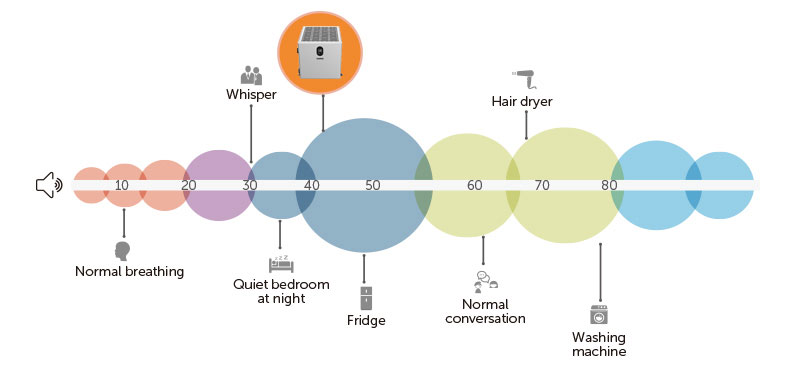 Average COP 11.6 at 50% capacity. High efficiency with COPs of up to 16.3. (Air 26°C/Water 26°C/Humidity 80%). This means that for every 1kw of electricity used by the heat pump, up to 16.3kw of heat is returned to the pool.

Built-in WiFi for mobile apps control at anytime, anywhere. Equipped with an easy to use touch screen control panel, showing you the real time status of your INVERX heat pump.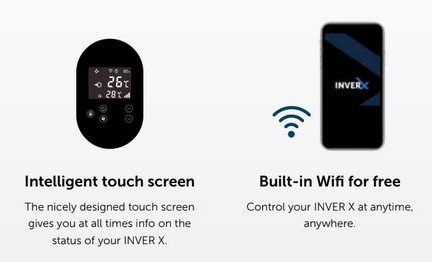 Unique air flow technology leads to most silent ventilation.